Lucy Dempster (IIHHT BRCP MCAR MAR)
I am Lucy Dempster, a holistic therapist, based in a modern clinic in Handforth near Wilmslow. I specialise in reflexology, hot stone massage, aromatherapy massage and holistic facials. I am currently only able to take on new clients for reflexology.
Coronavirus Update
My business is currently open in accordance with full risk assessments. I have procedures in place to make my treatments as safe as they can possibly be. These include a checklist, with each client, taking place at the start of each treatment, the clinic will be cleaned before and after each treatment, a hand sanitizer station has been installed, the room will be aired for a minimum of 30 minutes between each client and I will continue to wear a face mask.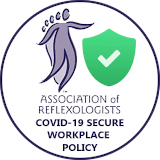 Experience
I have over 25 years of experience in holistic treatments and have been a clinical reflexologist since 1996. I regularly attend study days to update my skills and make sure I'm offering the latest techniques and treatments. After years of client requests, I started to offer facials but with a holistic twist with gorgeous aromas and massage remaining an essential part of everything I do.
Location
My clinic is on Coniston Drive in Handforth and is easily accessible from Wilmslow, and surrounding areas in South Manchester. There is free off-road and on-road parking available.
Health Care Plans
My qualifications meet the criteria set by many health companies so clients can claim part or all of their costs back (For Example; Westfield Health, Paycare, Healthshield) but please check the terms of your health plan before booking your appointment.
Further Information about Holistic and Beauty Treatments by Lucy Dempster
If you have any queries give me a call on 01625 524883 or fill in the form on the contact page or for more information about the treatments offered please visit my Treatment Page.
Member of the Association of Reflexologists, the Clinical Association of Reflexologists and the British Register of Complementary Practitioners. CNHC registered for reflexology.